Masks of Tengu at the Interior Shrine of Kotohira-gu
2008.01.27
Just as it was written earlier in this article、 there is a legend that says the god Tengu would come to the great camphor tree of Kinryō Kotohira Brewery. They say that even until recent times there are certain elderly people who would go so far as to proclaim、 "I saw Tengu sitting on the camphor tree's branches when I was a child!"

There are 785 stone steps leading up to the main shrine at Kotohira-gu (Konpira-san's official name)、 but if you climb all the way to the interior shrine from the base of the mountain、 there are actually 1368 stone steps、 and it takes about one and a half hours to get there. Whether it's true or not、 they say that on the cliff face on the left hand side of the shrine there are the long-nosed masks of Tengu carved in the very stone. This is the one thing for which you have to climb all the way to the interior sanctuary to truly understand.

At any rate、 it's one of the best kept secrets of Konpira-san.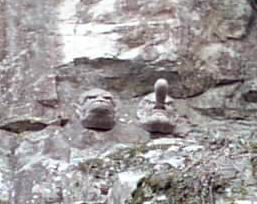 「Is this what I think it is?」
2023年9月
日
月
火
水
木
金
土
1
2
3
4
5
6
7
8
9
10
11
12
13
14
15
16
17
18
19
20
21
22
23
24
25
26
27
28
29
30
---